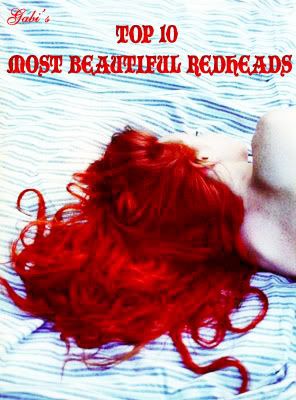 Because redheads should rule the world. ;)


---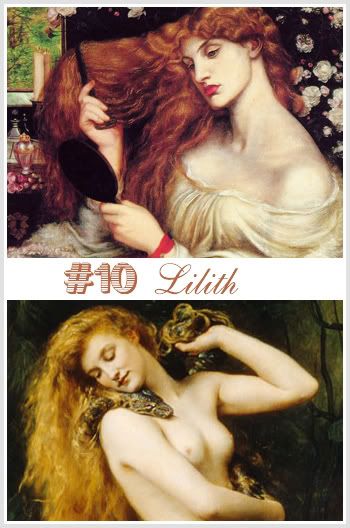 According to the Hebrew mythology, Adam's first wife was Lilith. They were in perfect balance, they were opposite and equal, they were in harmony. But Adam was not happy. Adam wanted to dominate, to over-shadow, to rule. Some say that he meant only sexually, but in any case, his other half would have none of it. ("She said, 'I will not lie below,' and he said, 'I will not lie beneath you, but only on top. For you are fit only to be in the bottom position, while I am to be the superior one.'"). Lilith promptly uttered the name of God, took to the air, and left the Garden. Lilith left the Garden of her own accord, before the Fall of Man, and is without Original Sin.
Let's skip the part where she is a child-eating demon. ;)
Because even though Lilith originated as a demon, she means many things to modern people: goddess, demoness, role model, archetype, etc. But whatever role she plays in one's belief system, she is powerful, charismatic, and compelling. And a redhead. :D
Paintings by Dante Gabriel Rossetti and John Collier.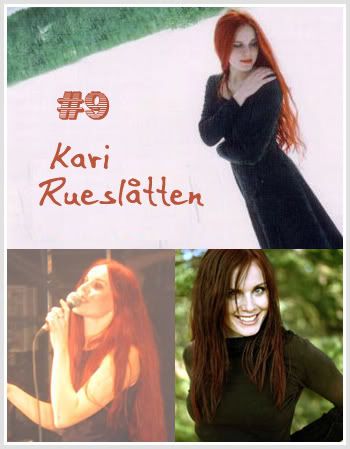 Kari Rueslåtten, is someone I hopefully don't have to introduce, but in a few words: she is a Norwegian songwriter/singer and composer. Was the original member and grounder of the 3rd and The Mortal band. She is not only beautiful, but has a voice of an angel and her music is a gentle caress to my soul.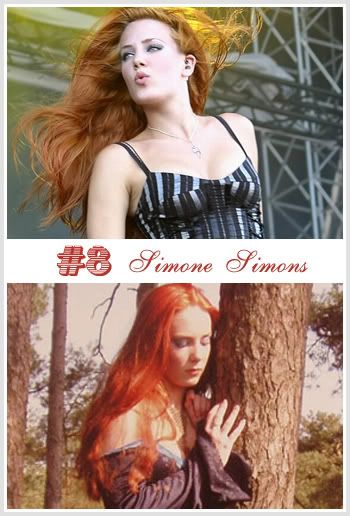 Simone is one of the most popular people in the metal scene. Her fierce personality mixing with a powerful voice and energetic stage presence will sweep everyone off their feet. :) And... just look at her.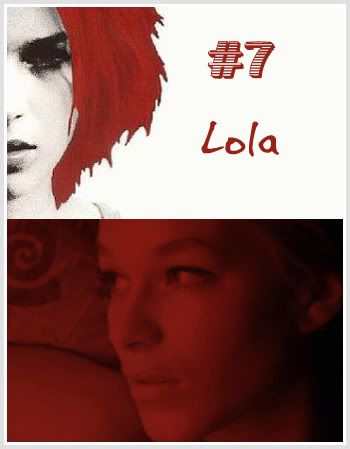 Nach dem Spiel ist vor dem Spiel. You have 20 minutes to rescue another person, 1200 seconds for your love. Lola, from the movie Lola rennt, is my all time 17th movie character. She is a real hero. She runs, screams, steals, fights, shoots, gambles, dies and many other things just to rescue Mani. And I love the whole football symbolism for this movie. :D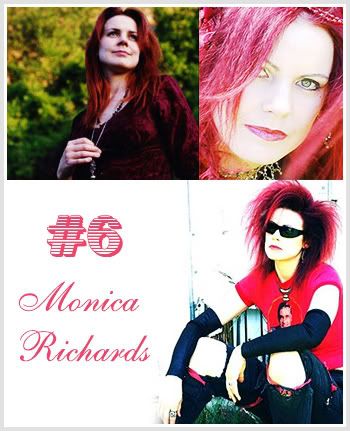 Monica Richards, a poet, singer, writer, musician, paintress - she is a true artist. And probably has achieved more than I will in my whole life. :D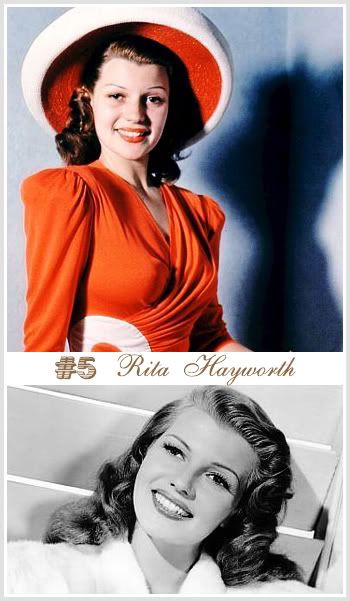 One word: Gilda. ♥
If someone didn't fall for her after THE scene, there is time to check if there is ntohing wrong in the head. *g* In my opinion she was the most beautiful classic American actress.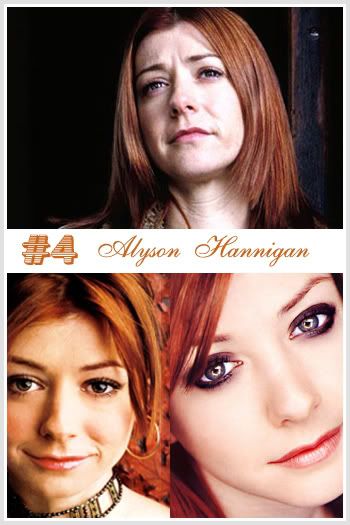 Not gonna lie, this placement mostly thanks to her powerful role as Willow in Buffy. A character I could always relate to: funny, smart, always helpful but shy and lets people use her naivety. And in the end she became one of the most important elements of the final fight. Well, I'm still workig on that. :D
Alyson is not a classic beauty, but her friendly personality/the way she looks like she is always smiling and would always have a funny story to cheer you up, makes her one, and that's the reason she is 4th. :)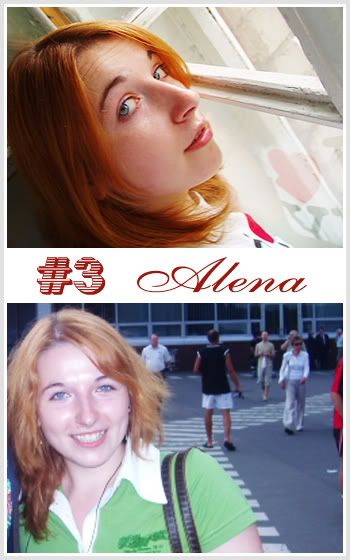 She is gorgeous, funny, smart, sweet, warmhearted, sends me great music, artistically talented, a Liverpool supporter, Eastern European, has blue eyes and loves me. What more could you ask for? ♥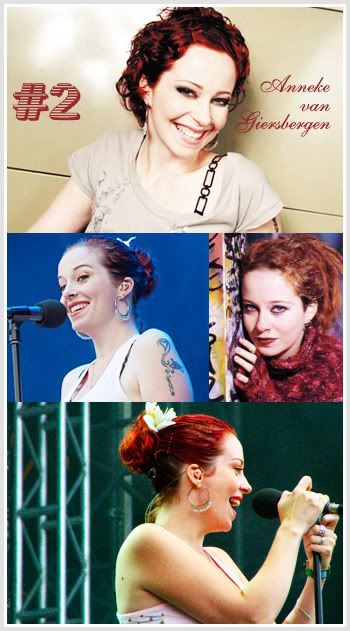 *gasps* I know what you are thinking, "Anneke isn't number one?! :O" Highly unlikely that Anneke, who is just the nicest person ever, would miss out on the first spot on any list I make. She would make the number one for even ... best soup recipes. Just look at that smile...*sigh* But this time there is someone I found even more beautiful. But that's for later. Now let me brag you about how I met Anneke again this summer. :D We went to greet the band, who gave an amazing concert at the Sziget Fesztivál, on the airport. We bought them a bottle of Pálinka. :))) Once again they were so sweet, even though they looked like they hadn't slept for years. XD Picture.






Who could be the nuber 1? *drumroll*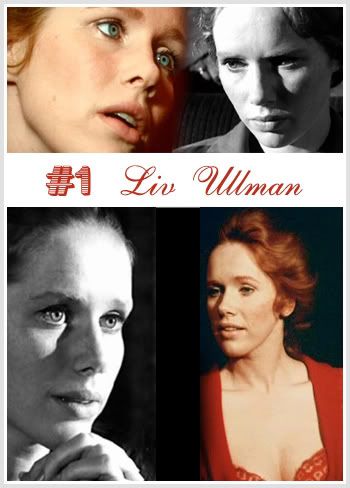 Well... duh. :D
For the last few weeks I had the pleasure to watch 10 of her movies, and I drew the conclusion that Liv Ullman was, and probably will be, the greatest actress ever to grace the world of cinema. (Admittedly, I haven't seen all) But no one compares to her extraordinary expressive face and body language. The combination of beauty, intelligence and integrity is staggering. I never come across a more strikingly gorgeous actress, and the more Liv films I watch the more I fall in love with her.
All hail Liv Ullman. :D




*worships all*